Financial Services Authority
Achieving compliance and safeguarding data with Microsoft SharePoint
Aims to secure an appropriate degree of protection for the customers of financial services providers
The reduction of financial crime
The maintenance of confidence in the Island's financial sector through effective regulation
Situation
The Isle of Man Financial Services Authority is the regulatory body for the financial sector in the Isle of Man. The objectives of the Authority are to secure an appropriate degree of protection for the customers of financial services providers, the reduction of financial crime and the maintenance of confidence in the Island's financial sector through effective regulation.
As part of its duties the Authority has to maintain a certain amount of documents in Physical Form. With great foresight the Authority commissioned a custom database to manage this physical archive, a system which delivered a very long length of service and provided a crucial repository both for management of the archive and reference data associated with it. As the underlying database technology reached end-of-life, however, the system presented a risk to be managed.
As a result of this situation the Authority identified a migration of data and capability to a new platform as a suitable way forward. Microsoft SharePoint was a logical choice as it was already being used for electronic records management.
Challenge
Migration of items and meta data from a legacy database source to a Microsoft SharePoint destination.
Add capability to manage off-site storage, retention and disposal
High volume of source items.
Different item types in the source.
Different item profiles in the source.
Minimal tolerance for data loss.
Source was a non-relational database based on MS-DOS technology
Source archive still being updated.
Solution
Physical Records Management solution in SharePoint.
Content Types used for meta data, retention scheduling and security
Batch review of retention and disposal
Physical folder numbering
High performance, high volume migration process.
Reconciliation of source and destination systems.
Managed migration, handling user's requirements to update the archive.
Benefits
Reduced platform and risk with migration to a supported platform.
Reduced platform risk with improved solution documentation and handover to client staff.
Increased user efficiency with improved search process.
Increased user efficiency with improved physical file management process.
Increased infrastructure efficiency by using existing Microsoft SharePoint infrastructure.
Assisted client in achieving compliance with a supported platform, improved search, retention and hold capability.
Highlights
Control the location and disposition dates of physical folders.

Get notifications of records awaiting transfer or destruction

Filter on key fields such as the containing archive box.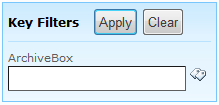 Define disposition actions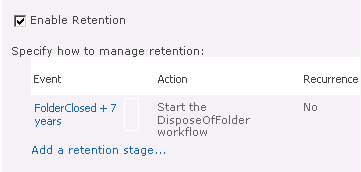 See physical records in search results alongside your electronic documents