Modern document libraries are now rolling out to all Office 365 commercial customers worldwide. You can learn more about how to use modern libraries in this article, "What is a document library?" or watch the video at, https://blogs.office.com/2016/06/07/modern-document-libraries-in-sharepoint/.
The new interface is attractive and easy to use.  For the majority of SharePoint users it will be a very positive thing.  It is not, however, without it's limitations.  These are of particular consideration for user's heavily orientated towards document and records management.
So lets focus on the potential potholes for such customers.
Once multiple documents are selected you have limited capability to do anything nice like bulk check-in, you can only move, copy, delete.
The new quick edit function does not work well with multiple content types (it allows you to enter a data for a field which the document's content type does not carry).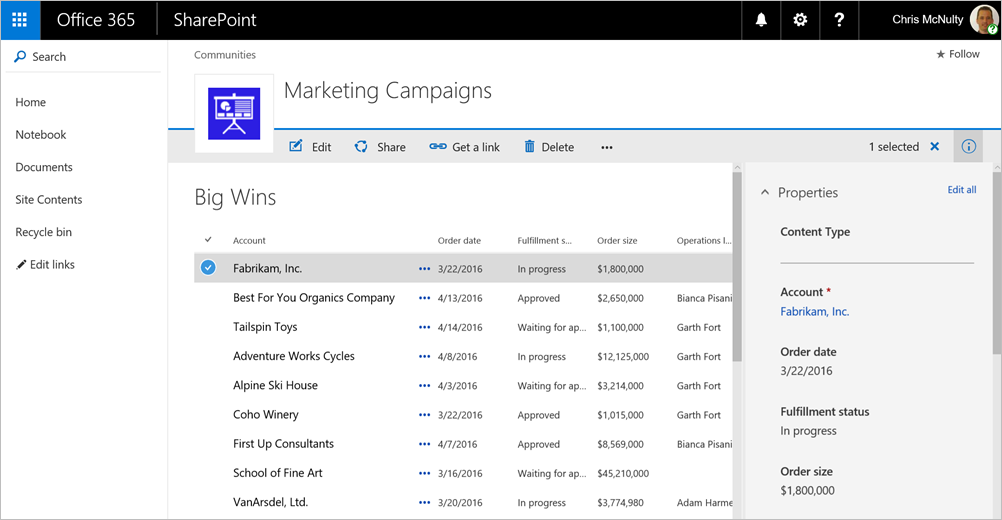 Linking through to editing a view is more complicated than before.
The way that the library interacts with the ribbon, masterpage and composed look is different so custom brands might be affected.
Sending a document to a record centre is not available because it is on the ribbon which is absent.
When you edit the properties of a document you CAN change the content type.  When you edit the properties of a folder you CANNOT change the content type.  Setting content types on folders is important in many records management / retention scenarios.
If you were using functionality change the view being used by virtue of the content type of the folder in which you were located then this is not fully observed by the new interface.
Now you can work around any of these limitations by clicking the "Return to classic SharePoint" in the bottom left hand corner but this does muddle the user experience.
You also have a certain level of control in regards to use of modern lists – See https://support.office.com/en-us/article/Differences-between-classic-and-new-experiences-for-lists-and-document-libraries-30e1aab0-a5cc-4363-b7f2-09e2ae07d4dc
In it's current form (Summer 2016) the experience looks great for basic scenarios but for existing customers using SharePoint for document and records management should look before they leap.